We port your game to other platforms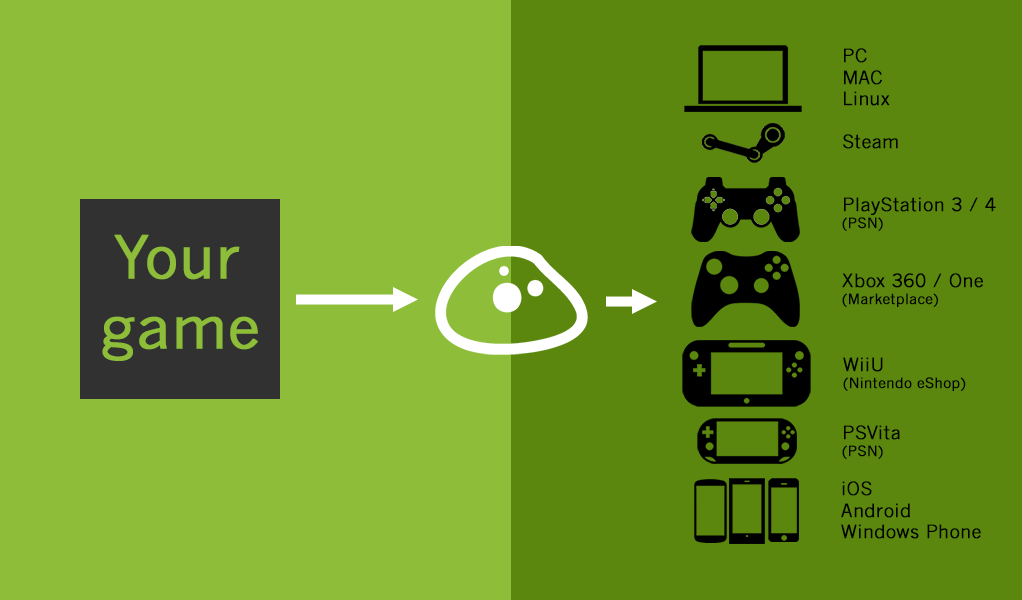 Currently, because of the fragmentation of the video game market by the large number of available platforms is very important not to limit the potential of game or intellectual property in a single platform. More versions of the same game for different platforms consolidates the game or intellectual property as a globally recognized brand and also reaches a broad range of audiences. For this reason we offer a video game adaptation to a large list of platforms. We specialize in adapting downloadable games for these platforms:
Windows
Mac OS
Linux & Ubuntu
Steam
HTML5 games
PlayStation 3 & Xbox 360 (PSN & Marketplace)
PlayStation 4 & Xbox One (PSN & Marketplace)
PSVita (PSN)
WiiU (Nintendo eShop)
iOS, Android & Windows Phone
Game Design and Development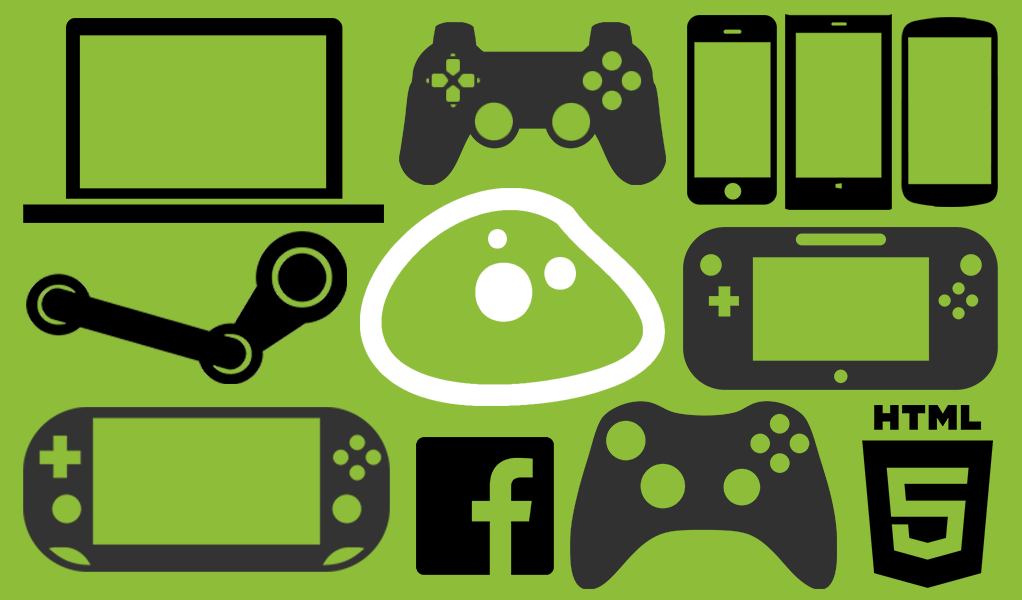 Do you or your company you done a film, short film, series, book or any other creation that you'd like to see video game? We can design the video game based on other intellectual property and develop it for multiple platforms at once.
The cross-media is key to the success of an intellectual property. In this way it is easier to consolidate an intellectual property like as a globally recognized brand and what better way than to video games to do so. No doubt the media that get more benefits today, even more than the film industry and music. We can offer a game of aesthetic and technical high quality based on your intelectual property. We design and develope games for this platforms:
Windows
Mac OS
Linux & Ubuntu
Steam
PlayStation 3 & Xbox 360 (PSN & Marketplace)
PlayStation 4 & Xbox One (PSN & Marketplace)
WiiU (& Nintendo eShop)
iOS
Android
Windows Phone
Chrome web store
Facebook
HTML5 games
Gamification
Social games
Advergaming & Gamification
New times new tools. As a result of the drastic changes that are happening in the technology and telecommunications media and consumers themselves must create new, more appropriate and efficient, targeted to those new markets that are generated. A very good tool for recent markets like social networks and mobile devices is Advergaming. Advergames are marketing and communication tools in the form of video games used to promote a brand, product or organization.
The Advergaming go beyond traditional advertising tools because advergames creates an ecosystem in the consumer that brings the consumer to the brand or product.
The main difference with other advertising media is the high capacity of interaction with the consumer. The interactive factor in the consumer generates a positive predisposition to voluntarily exposed to advertising not only as a informative media but as a entertainment way.
This effect is impossible to achieve in other media, so we can say that advergames elevate persuasive intent of advertising to a playful experience. And most importantly, the consumer will still see the ad while feels entertaining, a time period of between 15 and 30 minutes. This makes up to 12% increases the rate of acceptance or purchase of the brand or product by the consumer.
All this means that advertising not only invites the consumer to desire but rather to experience. And experimentation through a game, in other words, play, the consumer assimilates the advertising message more easily and better as it does while having fun.
Other important factor of advergames is the high capacity of viral propagation, the propagation of advergame is 30% higher than advertising in other media such as TV spots. This is because the ability to propagation is part of Advergaming, the advergame invites the consumer to propagate the ad. It is also perfectly compatible with other marketing campaigns. But that's not all, to top it off is a totally measurable, there is the possibility not only to have immediate feedback of the consumer, but it can get much information about the profile of the consumer, which is important for customizing consumer product or advergame and identification of target consumer.
No doubt the advergaming is better than a Trojan horse for your brand or product.
Why your brand or product needs advergaming?
It's a new advertising channel to exploit.
Great ability to express intentions or features of the product or organization.
It reinforces the image of the brand or product.
Segmentation of the target audience.
Obtaining data to generate a database of consumers.
Relationship between cost and effectiveness much higher than other advertising medium.
Increased retention of ad content on the consumer.
Low interference in routine consumer.
Consumers looking for the content and not the content to the consumer.
Direct interaction with the consumer.